Another first for da Vinci and Mediclinic Durbanville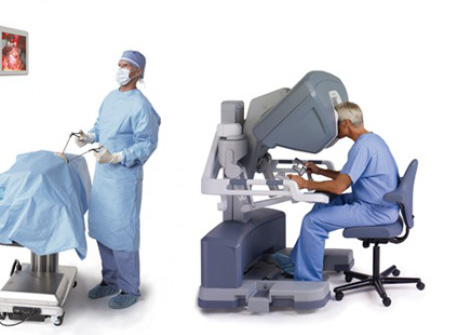 Durbanville – On Friday 16 June 2017 Mediclinic Durbanville became the first hospital in South Africa to perform a pelvic floor prolapse repair with the use of the da Vinci robot. Over the course of the long weekend, the doctors performed a number of additional pelvic floor and colo-rectal procedures on the robot.
While da Vinci robotic surgery is nothing new to Mediclinic Durbanville, with prostate surgery being performed since 2013, the advancement of skills amongst fellow surgeons has opened doors for a new range of confined space surgeries such as pelvic floor repairs and rectal cancer surgery. Both Dr Frikkie Rademan and Dr Reniel de Beer have recently undergone the rigorous training to certify themselves on the da Vinci robotic system.
Hillary Nortje, who was the first patient to undergo this robotic pelvic floor repair at Mediclinic Durbanville, is not new to these types of surgery done in the traditional and laparoscopic way. She underwent an initial pelvic repair several years ago with another surgeon, which was unsuccessful, as well as later undergoing a successful bladder operation. She explains her approach to the surgery, "After my initial operation I was reassured that the results would be a lot different this time round. Dr Rademan advised me to wait for the robotic option in my case and I am so happy I did. While I was apprehensive before the procedure the staff and doctors at Mediclinic Durbanville were so eager to explain each step of the procedure and the reasoning behind them. It was less invasive, my recovery was so much quicker and I only experienced a little discomfort from the incisions rather than actual pain. I am hoping that soon I can get back to a little gentle trail running or spinning which I have not been able to do for the last two years."
Previously, surgeries such as pelvic floor repairs would either have been performed via open (traditional) surgery or laparoscopically which had inherent restrictions for the surgeon. Dr Rademan, General Surgeon at Mediclinic Durbanville, explains "With laparoscopic surgery you have the 'chopsticks' effect where the equipment cannot adjust for the pelvic curvature, restricting access past the lower end of the sacrum to the pelvic floor. With open surgery, the surgeon's hands often obscure the area and the surgeon is partially 'blind' to his action." The da Vinci robot arms permit more than 360º movements that allow the surgeons specific access past the curvature of the pelvis to repair the necessary pathology.
But it is not just about better access. The da Vinci provides a 10x magnification to the surgeon behind the control console, ensuring that even the finest nerves (sometimes as thin as a hair) are identified and navigated. Dr de Beer, General Surgeon at Mediclinic Louis Leipoldt, explains the importance "Through the magnification, we are able to ensure that nerves are not damaged, and that our patients' bowel, bladder or erectile function can be saved or restored, providing better clinical outcomes post-surgery." Other benefits of the robotic surgery include reduced blood loss, precise dissection and much quicker recovery after a shorter length of stay in hospital. "Patients are eating sooner, their bowel function returns faster and they are able to return to their daily lives so much sooner than was possible with traditional surgery," explains De Beer.
Dr Rademan explains that the team approach taken in the da Vinci surgery allows for constant communication between team members. A surgeon controls the robot from a console while another assisting surgeon is alongside the patient providing feedback and assisting with initial placement of the robotic arms. "The patient has the assurance of two surgeons in collaboration achieving the best clinical results," says Rademan.
The team approach is already deeply entrenched into Mediclinic Durbanville with a dedicated Pelvic Unit being established in 2012 by Dr Frikkie Rademan, Dr Gawie Bruwer, Urologist, and Dr Wynand Truter, Gynaecologist. Since then additional medical fields have been added to the team including additional specialists, dieticians, psychologists and physiotherapists. More than 200 patients have been evaluated by the team with only 70 patients undergoing surgery. It is important that non-surgical outcomes are also explored for patients, with additional perspectives across a broad range of medical specialties giving a more well-rounded assessment of potential treatment plans.
Christine Taylor, Hospital General Manager Mediclinic Durbanville, says "We have very successful patient outcomes from the prostate surgery and we anticipate that our future patients will experience the same benefits. The da Vinci robot has revolutionised the surgical environment and we are proud that Mediclinic stays on the forefront of innovation and technology to the benefit of our patients." The da Vinci robot is utilised worldwide for an array of confined space surgeries and over time we foresee other procedures such as nephron sparing kidney surgery, pancreatic and thoracic surgery may be performed in this hospital.